Cinema
Apocalypse will come in May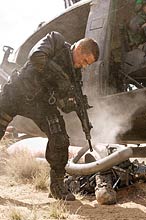 No, this is not about the final stage of the global financial crisis. Talking about filming "Terminator -4. Authors paintings promise that it will not only be the worst movie of the famous series, but the picture is full of fatal prophecy.

Shooting period in New Mexico was almost completed and will soon begin assembling the film, which will be both a fourth series of "Terminator" and the first part of a brand new trilogy.
The role of John Connor, who fights against evil in the face of the computer network Skynet, trying to destroy humanity, Christian Bale plays (one of the artists as Batman in the famous TV series), who will oppose Josh Brolin - terminator. Their duel for the first time will not only fight in the genre of action, but also verbal battles, including those on religious themes.
The painting can be traced at all - though slightly veiled - the biblical theme of salvation. Not to mention the fact that there is still not determined the name of the tape. Whether the "Terminator 4: The Future Begins", or "Terminator 4: Salvation!" Moreover, work on the painting had been invited several clergymen of different faiths.
Some scenes in the movie, and really, well, just eschatological. You look and think: do we really, really, is left to wait for only some 10 years to see it in reality? The film takes place in 2018.
Play is in the film, Arnold Schwarzenegger, who takes an active part of the movie, constantly aware of how there is a filming - is still unknown. But Tony Blair, visiting the Iron Arnie "to play in the film, has already refused. Not ex-prime ministerial this case, I see - a movie shoot.
But one of the roles in "Terminator 4" has played perhaps the most gifted young man in Hollywood (he was in the next year will celebrate 20 years), Anton Yelchin. Russian by birth.
For small but central by plot roles invited Helen Bonnem Carter. However, who plays a superstar, the creators of picture has to hide. For the forest plot.
The world premiere of "Terminator 4" will be held May 22 at the Cannes Film Festival. For us a movie in the summer - the first show in Russia scheduled for June 4.
Alexander Gray

p>
Click here to see this article in russian: Апокалипсис наступит в мае
urushev_p
©2006-2019 All rights reserved