Cinema
"Streetracers: Who came up with, say, these tubes?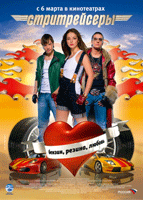 Girls, rejoice! Alexei Chadov again on the screens of the country! At this time, thank God, there were no "heat", but with tires, gasoline, and love. Action "Streetracers" Rent everyone on the night streets of St. Petersburg. Fasten your seat belts!
This movie is about the people who love to drive through the streets in colorful coolest cars at breakneck speed. And once it comes to rookie Stepan (of course, its own persona, Chadov) and says, they say, take me with you to skate. Ride it takes, but occasionally throw and throw, as the last Lohan. Then he falls in love with ex-girlfriend the ringleader of "drivers" (this is the Alexandrov), seduces her (still would Chadov and not offend!), Such as defiance, shows what he is, Stepan, a cool and how wonderful it is able to drive a Ferrari.
But I've thought that "Streetracers" - a kind of spitting in the face of our police. Judge for yourself, what else can mean the song which is sung "We're rubbish, but we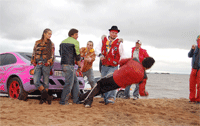 people, too. We take a bribe, but we did not lose anything "or something like that, and how to regard the characters of policemen, who are just doing that" otmazyvayut "her and take bribes and that the film exhibited complete idiots? Our police have after this does not take care, no matter how fiercely stung the eyes, though the uterus.
Soundtrack "Streetracers" striking. Somehow, the music on the background is the same. Looks like a young Decl or even any yard Raper, sad sack. And as for him like mad Marina Aleksandrova, pleasure to watch! Is "Survivor" kicked out of the girl last sense of rhythm or those absent from birth?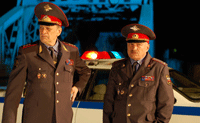 But that's okay. Most pleasant to hear laughter in the hall of these racers, who can not hold back tears when they see a Lada, the overclocked speed of 260 km / h. In this film about the car a lot of "blunders" of the machine, but says Mr. Director, this is not a documentary, that all correspond to reality. Yeah, let's nasnimali tales. And in this fairy tale, Marina Aleksandrova and Alexei Chadov will play a mediocre role, stuntmen perform for them all the tricks, and the actor will only flicker a couple of shots and do voiceovers.
Film with a budget of $ 6 million and 300 broken machines was and is a parody on the foreign "Fast and the Furious." This vile, quite obvious parody, no matter how many times stressed that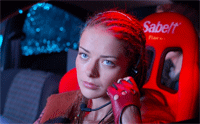 This is the first Russian film of its kind. Yes, even the tenth, not getting easier.
And now the most offensive in this review note for lovers of fine: Alexei Chadov in "Streetracers" as young people like to talk, not sexy and not ice. The whole scratched, arrogant - a real Russian man, not enough beer belly. Let not your guy he did not even Agnes Ditkovskite. In "Streetracers" He will lie in the rain a car wash at Marina Aleksandrova. The most important thing to us, as usual, did not show, but happy mug (or otherwise), all the girls say for itself. That's all erotic, that's all the romance and enough explicit scenes.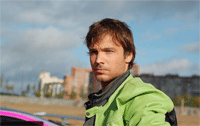 This pattern is not surprising originality of the plot (her originality of this, there is not), not the beautiful game actors (Alexandrov false as ever), and others. Currently sitting in his chair and tried a full range of emotions: the picture nauseated, from music to puke pull.Well, what else can a movie feel?
Anna Pavlova
Click here to see this article in russian: «Стритрейсеры»: кто придумал, скажи, эти пробки?
pavlova_a
©2006-2020 All rights reserved