Cinema
Who dares - he flies!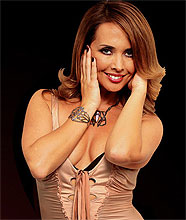 The little fawn named Niko is a cherished dream - to learn to fly as well as deer from Santa Claus rides, where, as he believes is his father. Dec. 25 at Russian cinema screens out animated film "Nico".
Nick lives with his mother Una, and her best friend Saga in a beautiful valley. But one day, unwittingly, Nico leads him into the valley of a pack of wolves led by the Black leader. The bandits came to the valley in the footsteps of Nick and attacked in his own herd. Escaping from the villains, the herd is compelled to leave their home and hide from the wolves in unfamiliar woods. Angry at the naive kid, members of the deer herd blamed Niko for all their woes. Crushed chuvstvaom guilt and driven by the desire to find his father's deer leaves his family and goes in search of the valley of Santa Claus.
See gallery New cartoon "Niko" goes on display

Niko is accompanied by his best friend and adoptive father - an adult and a clumsy flying squirrel named Julius, who carefully watches over his pet. In the way friends suddenly catches a hurricane, and Nico with Julius are separated. When the storm finally died down, Niko, covered from the weather in the snowdrifts, accidentally overhears a conversation wolf pack: in search of food, the wolves want to find the valley of Santa Claus, eat all the deer and himself, and take the place of Santa Claus. Masquerading as Santa Claus, wolves can easily penetrate into people's homes and to arrange a Christmas feast.
Unfortunately, no it is not able to properly hide - a wolf pack to quickly detect its presence and rushes in pursuit. To escape from his pursuers, Niko stumbles upon Julius, who lost a leg, looking for his pupil. But their position is enviable not name - friends were trapped, and the wolves are about to overtake their victims. But to help Niko and Julius suddenly comes Wilma - a charming and flexible weasel. It saves them from the pursuit and agrees to hold the possession of Santa Claus. Now on a visit to the magical old man rush just two teams: the three friends, travel and a pack of wolves.
The wolves run fast, and Nico is clearly no time for them. Only one way out - quickly learn how to fly and thus save Santa Claus from the massacre. But alas, all attempts to turn Niko fly failure. Convinced that Nico and his friends were killed in the woods, wolves continue their way into the possession of Santa Claus. However, the brave travelers still manages the impossible - they overtake the gray gangsters, and the first to reach the goal.
But here's the problem - nobody believes they said that the wolves are about to come into the valley to eat them. A flock of rogue really late - they got lost in the ice maze, leading to the valley. Another problem is that none of the reindeer sleigh Santa does not want to admit their son, Nico. None of them simply do not believe the kid. In an attempt to prove that he is not lying, which is once again trying to take off. And again, it all ends in failure.
Nico terribly depressed and ready to turn back, but at the very moment the wolves find a way out of the maze and attack the inhabitants of the magic valley. Are not used to fight with someone else, the deer instantly Santa podrasteryali all his snobbery. They are so scared that completely lost their flying ability and was helpless in the face of danger. But Nico shows miracles courage - when he saw that Julius was about gobbled up one of the wolves, he forgets about everything, rushes to the rescue and takes off ...!Adult deer, inspired by the example of a kid, remember the magic of his talent, and come to life. Deer Squadron breaks the enemy decisively.
Now all recognize the right to belong to Nico elected and offer him a place in a beautiful carriage. But in exchange, Nico must forget about his past - leave Julius and Wilma, leave the family. At this point, Niko realizes that, it turns out he had a lot more than find. All these years, Julius was his, though not native, but loving and caring father. Only now, the fawn is clearly understood this and felt gratitude to my faithful teacher. And Niko makes a choice. Together with Julius, he returns home.
Russian version of the cartoon ozvuchat Zhanna Friske (Wilma), Nikita Dzhigurda (Black Wolf) and Sergei Selin (Julius).
Click here to see this article in russian: Кто смеет – тот летает!
urushev_p
©2006-2020 All rights reserved