Cinema
Modern Mermaid smokes, drinks and falls not in those of men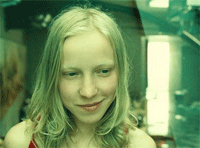 "Rusalka" is similar to the image and likeness on Amelie and Pippi Longstocking. But with whom would not have been compared, and not to say, one thing is clear - the young filmmaker Anna Melikyan, has turned off a surprisingly light, magic and pleasant in all respects a movie without a claim to genius.
Once upon a time there was at sea a little girl Alice. Neither worse nor better than others. She sang in a children's choir, but all said that she was a dancer. I went to school for Down's syndrome. At 6 years old and never stopped talking. And in 17 years with a thick, loving mother and silent melancholy grandmother moved to live in Moscow. On his 18th birthday was presented with a bra fifth the size and mass mayhem center of the capital football fans after the match Russia-Japan. On the background of Moscow panoramas Alice wanders in a suit cell phone and dreams. And then one day in the Moscow River to meet him. As usual, falls in love with ... a non-reciprocal.
"Mermaid" could well be a good teen movie. And if I had not gone joke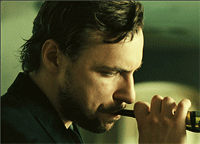 "Intimschina and sad ending. Conflict of love there, and a teenage girl, which is an entire Moscow, with its cockroaches in my head, and the prince on a white horse in the face Yevgeny Tsyganov, because of which, after painting "Peter Fm» broke a lot of girls' hearts. By the way, the role of "Mermaid" was a success it is much better, he's charismatic chtoli.
But once the film is not for children, the old boys and girls "Mermaid" exactly like it. Movie a la "Heat" and still the same, "Peter Fm» always garnered full houses.
Portrait of a modern representation of the Little Mermaid in Melikyan looks roughly like this: swamp-colored hair, a black cap pulled down over his eyebrows, a bottle of brandy in his hand. Prince also did not present: a rich contemporary snickering man who sells land on the moon.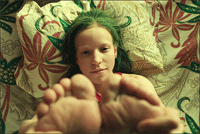 Every night at their home-parties, he gets drunk and goes to three sheets to the Crimean bridge to commit suicide once and for all. Every night, Mermaid, right wagging his tail and runs after him to save. A prince, a skunk, you still did not love her. It is clear: Article 122, imprisonment for up to 4 years.
And not only the main hero is undergoing significant changes associated with age, time - call it what you will - but final. If the Andersen fairy tale, he sad to the last tears and schipoty psychic, there are literally tin - Crossroads, squeaking brakes and Alice's voice-over: "Every year on the road are killed 2000 people. This often happens in large cities. This often happens and that's it, our heroine, lying face down, sprawled on the pavement. Well, where you have seen a mermaid hit by a car? That's just it.
Anna Pavlova
Click here to see this article in russian: Современная «Русалка» курит, пьет и влюбляется не в тех мужчин
pavlova_a
©2006-2021 All rights reserved