Cinema
In Sochi, showed "Inhabited Island" Bondarchuk and the new film from the creators of "Peter FM»
In Monday night in Sochi presented a long-awaited film "Inhabited Island" by Fyodor Bondarchuk on the novel by Strugatsky brothers.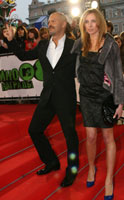 Along with the Kinotavr in dark nights are the 75 th Russian International Film Market, which filmmakers and producers to distributors introduce new products.
This year, the novel Strugatsky brothers "Inhabited Island" celebrates anniversary - 40 years.
Presentation of the new film by Fyodor Bondarchuk has collected several hundred guests. The audience is not without pleasure appreciated shown fragments fiction film.
Budget of the film has broken all imaginable and unimaginable record - 36 million dollars. The film will be a lot of computer graphics.
Starring Maxima debuted student Shchukin School Vasily Stepanov. The film also stars Fyodor Bondarchuk, Andrei Merzlikin, Alexei Serebryakov, Sergei Garmash.
The book "Inhabited Island" has undergone at the request of censorship more than 900 amendments. Screenwriters of the picture - his wife Marina and Sergey Dyachenko - admirers Strugatsky brothers, tried to do the most carefully with the original.
To accurately transferred to the screen the world of "Inhabited Island", a film divided into two parts. And the second part will appear on screens at 8 months after the premiere of the first. The first picture of the audience will see before the new year.
But this surprise for moviegoers, and the premiere was not the end. So in the competition program the 19th Russian Film Festival Kinotavr jury and the audience of the festival on Monday saw a picture of Michael Kalatozishvili "Wild Field" and the new film "Plus One", directed by Oksana Bychkova. Oksana Bychkova gained notoriety in 2006 after a rent a romantic tale of love and the radio - "Peter FM". Painting has long been a box-office leader.
"Plus One" has collected a fairly strong cast Madeleine Dzhabrailov, Yevgeniya Simonova, Vladimir Ilyin, Catherine Fedulova, Kirill Pirogov, Yuri Kolokolnikov Paul Derevianko, Evgeny Tsyganov. And the role of the protagonist performs a son in London hippies Jethro Skinner, and not a famous Hollywood actor, as was planned in advance.
The film "Plus One" is also about love, but it was not like Peter FM ». As a minimum, because the action takes place not in the city on the Neva River, and in the Russian capital.
"There was a steep foreign puppeteer and once he arrived in Moscow" - abstract reads the tape. The film is about how people can change and modify each other, barely touching. One plus one - well two. Here is a artless arithmetic will now be seen all Russian connoisseurs of good cinema.
See also: Diary Kinotavr festival (photo)
>
Click here to see this article in russian: В Сочи показали «Обитаемый остров» Бондарчука и новый фильм от создателей «Питер FM»
parhomenko
©2006-2019 All rights reserved