Cinema
The new film by Kirill Serebrennikov leaves limited number of copies
On Russian screens out the picture, taken from a screenplay by Yuri Arabov "Yuri's Day". Directed by Kirill Serebrennikov said that this film "waste" from the general principles of cinema. Since the foundation everywhere - love. But there is, after all, and other important sense ... Their understanding and devoted to film.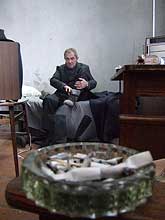 Painting with a bright star from St. Petersburg Ksenia Rappoport (starring), was shot in the old city Yuriev Polish. There was not even a hotel, and the crew had to travel over a hundred and fifty miles to Suzdal.
And although the film mostly, and not about love but also about love, too. She is an actress. She has - talent, fame, riches, son, and even her small home, with whom she comes to say goodbye before you ever leave the country. Suddenly, the heroine of the picture loses everything - wealth, and his son - everything that was and the meaning of her life. It would seem that we do now? .. But ... Love finds a way.
"Yuri's Day" was among the participants of the contest program of 61-st
International film festival in Locarno, which was held from 6 to 16 August. Painting was awarded a prize at the last Kinotavr. Its got Ksenia Rappoport.
Previous film Serebrennikov - Playing the Victim "- won the 2006 prize first Rome Film Festival.
At Kinotavr, by the way, the views of "Yuri's Day" split completely polar. Someone with a breathy babbled about a new masterpiece, and someone called the film "complete failure". Perhaps this influenced needinodushie that "Yuri's Day" comes out on the wide screen in a very limited number of copies.
But the game Ksenia Rappoport were pleased with everything. Still - it was the casting superzhestokim. And the first watch of European stars. And only then Kirill Serebrennikov understand what must be Russian actress. When they saw Ksenia - understood - here it is - what we need.
Arapov proposed scenario Serebrennikova after his previous film. Cyril read the script for a long time could not decide to shoot, and then decided, and the winter all took off.

Alexander Gray
>
Click here to see this article in russian: Новый фильм Кирилла Серебренникова выходит лимитированным количеством копий
urushev_p
©2006-2020 All rights reserved