Cinema
"George" - man or legend?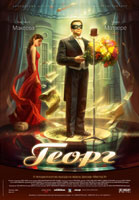 You leave the theater with the feeling that sitting in front of the TV. After all, only so usually show very very unclear movies format fifth buttons of your remote. "George" - exactly the kind of movie.
I have been confronted with the fact that most movies released in the rental in the 2008th year, are either entirely no, or very ugly. From Estonian directors, according to numerous jokes, I was not expecting something brilliant, short and interesting.
The film tells the story of Georg Ots - one of the most famous and beloved singers in Estonia and all over the Soviet Union, its uneasy fate, which formed a complex and changing times.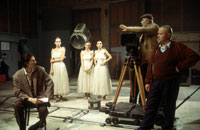 As I understand it, "George" is to completely confuse the viewer's question, who is this legendary Oates - fiction or a real character. I'm sure, thanks to the movie he becomes a legend, and after a few generations will find a second life - came up.
But while he was alive the first - the screen - eat the fruit films. Criticize them in any way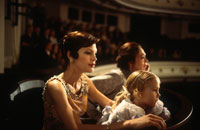 language does not turn, the benefit to criticize and discuss here is nothing. It is as useless as to write a review of the military or our good old domestic films.
If one of the episodes you do not seem that people jump on board the "Titanic" - is already good, the plot has not given you fall asleep. If the show - immediately leave the movie theater to avoid confusion, for beyond the film will be for you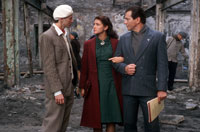 mystery.
Home directing "chip", which I managed somehow to note - for the role of the dancer by the name of Caesar - the soloist of the Latvian group «Brainstorm» Reynaers Cowper. Why is he in the movie is needed, I did not understand, perhaps, to attach fans to such a grave movie and raise cash for a percent. More this course to any idea I was not doing just that.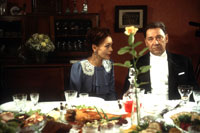 Plays a guy so-so and did not even sing, but it shows blue. And why do we need a singer in the film, if his songs are not heard? Neither myself nor the people: no game is not pleased, nor hymns. Something tells me that Reynaers also not particularly understand that they belong to the "George", so all he could do at the premiere - it's silly smile flashes of cameras and bow aged audience. No, well, that the concert would be staged if ...
Putting a point after all the above stated, I want to say that all this foregoing dalos me with great difficulty. Say anything about the movie, after which you leave with the feeling that sitting in front of TV - such as a futile exercise, how to write a review of the military or our good old domestic films.
Anna Pavlova
Click here to see this article in russian: «Георг» - человек или легенда?
pavlova_a
©2006-2020 All rights reserved