Cinema
"Kings Can Do Everything": our bald Gregory Peck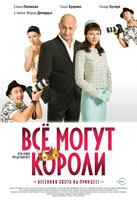 Gosha Kutsenko again unsuccessfully flashed his bald head in a supposedly a remake of the classics with Audrey Hepburn's "Roman Holiday", which mysteriously pripahali and Gérard Depardieu. The fact that the posters of the film "Kings Can Do Everything" hung around the city in an amount such as road signs, has not said about the genius picture. Rather, it is - a frank recognition of our filmmakers in mediocrity. Hurray, we won!
Remake of a remake of the strife. For example, "Vanilla Sky" has appeared only because Tom Cruise wanted to play a starring role in Alejandro Amenobara "Open your eyes", but the film has already been withdrawn. Without thinking, Tom produced the remake, in which each frame, as if copied from a Xerox of the original. And yet there are remakes, where only changes the end - with the normal to the happy-End. After seeing ten times the films "La Femme Nikita" and "Flat", and are desperately trying to contemplate a happy ending, as in a joke: "I thought that too in the second one occasion he did not die ..." The Americans have decided to correct the embarrassing mistake, why there ridiculous picture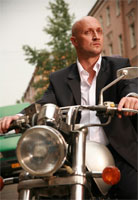 "No Way Out" and "Obsession." One of the rare cases of successful remake - is "The Lake House" director Alejandro Agresti, who is an American version of the Korean "Il Mare".
After watching the film "Kings Can Do Everything," I stole a suspicion that the producer and director Alexander Cherniaev his entire youth sobbed over the unhappy end of the Roman holiday. " Because of "Kings Can Do Everything" this end is the most ridiculous way prilyapan from nowhere to nowhere. It is obvious that this film will be compared with "Roman Holiday" and compare it - not in favor of a remake. Not in this film nor depth, nor sensible motivation deeds of heroes.
Exactly how unfortunate remake, failed and actors. Our "Gregory Peck - Kutsenko - of course, eager to show what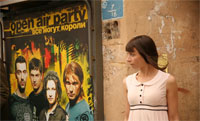 He and Sweden, and the reaper, and the dude igrets ", in other words, an actor and singer, and stihochtets. As a result, none of his "skill" is not fully communicated, and combined all the looks and disgusting at all. Thanks, did not even sing, and even on such a "talent" bald, we have heard.
Puffy and not a king stooped Elena Polyakova - Princess Marie of France. Our Masha, cropped, though zechka, hiding under the ridiculous hoodie elastic belly and amuses the audience blissfully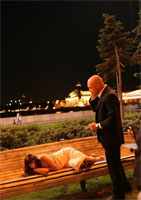 look whacky. If we are to compare it with the actress on the letter "X", then it is more similar than Hepburn, and on Khanayeva - Rodion mom from the movie "Moscow Does Not Believe in Tears." And in general, from an ideological fiction equate ugly game Yelena Polyakova talents to Audrey Hepburn, twitches his left eye.
Remained Oskar Kuchera, side-sewn full sun as the paparazzi. Its role is unclear, he bluntly lybitsya in camera sex movie. This is a non-first of its role of such a plan, where his plan is blurred and neutral. What else to earn a living have long forgotten idol of youngsters?
It would be fun to show "Kings Can Do Everything" Nicolas Sarkozy and listen to what he says in an emerging French monarchy. And all thanks to our filmmakers! For some reason were not to their liking either Monaco or Prussia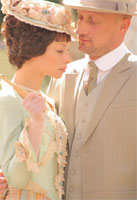 or Sweden, or even Denmark. And they're from something clung to the poor in France, where even in 1870, Empire has fallen and not squeeze.
ylo have a lot of things funny if the movie was at least some share of humor, but what is not, that do not. That is inevitable, as is the case with the "king" better not even try to smile, because the humor here - it recently.
The conclusion suggests itself: "Kings Can Do Everything" and some are not littered with "Roman Holiday" and the Russian remakes - a terrible phrase that you want to try to get round. A little bit more, and soon so will be with all of our cinema. After the film, "Kings Can Do Everything", it became clear that the king of remakes we have long ceased to be Philip.
Anna Pavlova
Click here to see this article in russian: «Всё могут короли»: наш лысый Грегори Пек
pavlova_a
©2006-2020 All rights reserved