Billboard
Pervomajskij rock 'n' roll from a group of "Bravo" in Orange
Peace, labor, and Mayday! Want to spring mood and irresistible to dance! For the execution of this,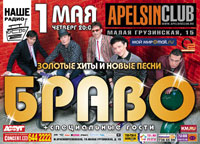 perfectly legitimate desire, just need to get into the club "Orange". For all his many fans, "Success" gives the First of the big concert.
Over 25 years of its existence, dudes from Moscow managed to win the hearts of several generations of listeners. "Today, our main audience - young people aged 17 to 25 years, and most importantly our success," - says the group leader Eugene Havtan.
The program includes "golden hits" that you can not hesitate to sing along as loud - "Orange Tie", "Leningrad Rock and Roll," "Road to the Clouds", "Love Girls", "John" - perhaps they know memorized nearly millions of Russians, 15 to 55.
Also at the concert in the "Orange" On May 1 the musicians will perform brand new songs from his upcoming album, mixing and mastering was recently held in London.
Here are some more details of upcoming performances: on the stage will be to attend a horn section, with which most recently serving "Bravo." Are also expected special guests - which, until a big secret. Sea positivity and drive guaranteed! Start Rock 'n' roll dances at 20.00
Click here to see this article in russian: Первомайский рок-н-ролл от группы «Браво» в Апельсине
parhomenko
©2006-2020 All rights reserved