Billboard
Kylie Minogue's "Olympic"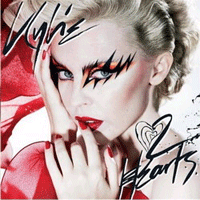 Kylie Minogue - the phenomenally sexy and attractive woman of Australia, the glory that entails not only the huge fees and the envy of colleagues, as well as setbacks in his personal life, but whose beauty has become a household name, represents a grand tour in 2008 in support of her new album " X ".
Tenth album Kylie "X" was released in November 2007 and has become a "platinum" in Australia, takes 4 line in the sales charts in the UK - and this is just the beginning.
Especially for this tour, the Australian pop diva with a team of creative professionals has created a new concept for the show «KYLIEX2008». Kayli itself describes the idea as "fresh, exciting and innovative."
The tour kicks off May 6 in Paris, and will be held throughout Europe, ending in London on 1 August. For the first time in the program of speeches, including Russia!
Concerts will be held June 16 in Moscow, and June 18, St. Petersburg.
"I'm going to make a show, which will become a new exciting and unique experience, both for my fans and for me the most" - says Kylie Minogue. Tour "X" will look to the future, but despite this, in addition to new, I will do the old favorite hits "- she adds.
News about Kylie Minogue's tour immediately aroused series of gossip about what the forthcoming world tour could damage her health (she had recently recovered from breast cancer), but Kylie is in great shape, which she will demonstrate in practice.
In continuation of his spectacular career in January of this year, she became the second man who ever had the fourth wax figure at Madame Tussaud's, after the Queen ....
"Glitter. Joy. Dreams. I think - that's my goal, "- says Kylie.
Paris, Prague, Helsinki, Berlin, Athens, Oslo, Moscow and St. Petersburg will become witnesses of stage show of the new Kylie Minogue «KYLIEX2008», which will end a big concert in London's O2 Arena, where the presentation took place recently reunited "Led Zeppelin".
June 16, "Olympic", beginning at 19:00.
Click here to see this article in russian: Кайли Миноуг в СК "Олимпийский"
pavlova_a
©2006-2020 All rights reserved