Billboard
In the "Orange" will be a concert of "Picnic"
The most mysterious formation of Russian rock, the legendary St Petersburg group "Picnic" will perform in Moscow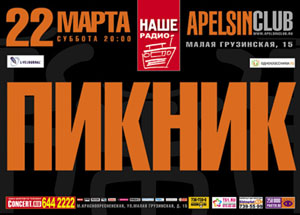 club "Orange".
Leader of the "Picnic" Edmund Shklyarskii called "alien" our rock scene. However, this does not prevent the staff are among the most popular groups to collect large halls across the country.
In last year's "Picnic" new album "obscurantism and Jazz and is currently actively touring the country with the same tour.
In February, "Picnic" released DVD "XXV". The disc includes footage, shot in the Luzhniki Stadium last year, as well as shooting in the Concert Hall "October" and materials, for various reasons were not included in the DVD «The Kingdom of Curves." Bonus CD includes clips "from Korea to the Republic of Karelia", "From the mousetrap", fragments of the film "Almost These Days," snippets of travel writing in the margins of the tour "obscurantism and Jazz."
Program, which is "Picnic" will present the "Orange", will also be built based on their last album, but she will not miss the old favorite songs. Do not miss out!
Saturday, March 22 at 20.00
Click here to see this article in russian: В «Апельсине» пройдет концерт группы «Пикник»
parhomenko
©2006-2020 All rights reserved