Billboard
Legends of Irish Music will perform in Moscow's B-2
Legendary Irish musicians Paddy O 'Brien, Daithi Sproule, Patrick Ourceau perform in the capital.
Paddy O'Brien, Dahi Sproel and Patrick Orco - a trio of the most legendary artists of Irish folk music, for several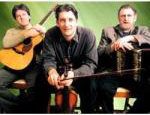 decades, are proud to present Irish music culture. As part of the project "Chulrua" - the nickname of the legendary dog of the Irish saga - the musicians have traveled the world, giving concerts on the best sites of numerous cities and conquering his skill and professionalism to the popularity of Irish music, song and dance.
Each of these have already middle-aged musicians is unique: Paddy O'Brien - the best performer, twice champion of Ireland's game on the Irish two-row accordion. For many, his name has long been a household name.
In the "Collections Paddy O'Brien - over 3000 Irish folk tunes. Most of them are written from memory.
Dahi Sproel - one of the most famous Irish guitarist and singer with 60's of the performing folk songs in English and Irish. Playing the guitar in 7 different order. One of the founders of the group "Altan".
Patrick Orco - one of the few violinists, unanimously recognized by the public and critics as a true master of Irish music. Combines his playing traditional Irish sound and inspired improvisation. Constantly working in the best of Irish music projects.
Their work combines both dance lovers and those who want to listen. This in itself is a unity - a rarity. Irish folk musicians of this level in Moscow has never been. A clear, seemingly leisurely pace, a free combination of the best Irish music, and the highest level of performance make each of their concert this event for any connoisseur of the world of traditional music.
March 22 lovers of Irish music festival in the waiting area of the club "B-2. 20.00.
Next week will continue the project «Esh», and visitors from 23.00 "B-2" waiting "Russian banjo" or a balalaika in jazz and Anatoly Happiness and a group of "Rendezvous".
Click here to see this article in russian: Легенды ирландской музыки выступят в московском Б-2
parhomenko
©2006-2020 All rights reserved