Billboard
Contraband Mummy Troll on stage B1
June 27 at the club "B1 Maximum» will take place first in this year's large metropolitan concert of "Mummy Troll".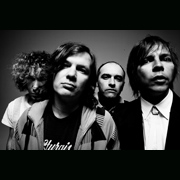 Connoisseurs and lovers of art Ilya Lagutenko could watch performances of "trolls" in a variety of unexpected places - in the park at Kolomenskoye cluster
40 000 people on the "Unusual Concert" in the arcade, on a night well-known publishing house. Now, for the first time this year Mummy Troll will present a two-hour speech in the chamber club atmosphere in the form of the classic rock concert.
Most of the track-list performances in "B1 Maximum» amount to a completely new songs that will be included in the upcoming double album. In addition, the set will include classic hits, which more than a decade ago, a group Mummy Troll came to the forefront of rock music.
"I do not want to rest on his laurels, sveshivaya legs and looking at more than smiling Horizons - recognized Ilya Lagutenko. - From the previous disc "Amba" Our students have not yet come to dessert, as we have already brewed a mess: spent most of 2007 not only in touring performances, but also to record new songs. The volume of work done, even for a group Mummy Troll in two, three or even five times more than usual. "
Compose one song in five years, as many artists, Ilya Lagutenko thinks for himself "unworthy." Less than a year after the release of Amba, like Mummy Troll ready new songs.
Mummy Troll concert in Moscow - a rarity. Concert-presentation of the new songs from the album, in the process of work - an unprecedented event. Before a review of the new album will appear in the press, Muscovites will get a first impression about the imminent release of the group.
B1 club, everything will start at 21.00
Click here to see this article in russian: Контрабандный Мумий Тролль на сцене Б1
parhomenko
©2006-2020 All rights reserved