Billboard
March Ketra: Uninteresting Robsky for mere mortals
Who is March Ketra? Say, a popular blogger and no less popular writer. Can say a lot, but until you see your own eyes - do not trust anyone.
Blogger she can, and popular, but the literature is clearly on the "you". This again confirmed the new creation Ketra - a book called "Women and cats, men and cats and really looks like a Oksana Robski: texts cheaper and easier (although it would seem, where already there?) Than that of a glamorous writer with Rublevki for people with average incomes - a sort of light-version.
Alas, but for the status of "a glamorous writer," March Ketra not pull. Yes, and not seeking a lady to that, once the presentation of his book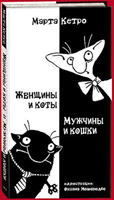 gives T-shirts to those who come up with the original name of the images on them. All, as children's party.
It is a pity that his book blogger has undertaken to represent the Museum of Contemporary Art "Art4u", which is even a wonderful, modern and interesting. But do not ruin a presentation of his reputation? Sorry for the confusion.
Hear what rants popular blogger and keep a diary on the Internet immediately rashochetsya. Strange image consists of Martha Ketra. Like popular blogger, writer, but why such groomed? Vulgar? And all this shall be made in the books that she wrote.
Judging by the number of people who came to the presentation of "Women and cats ..." The audience is not particularly creative, then "eats". Hence, the average reader can not look back on advertising and not succumbing to mass, to choose what to read to him, and that - no. And Martha Ketra in this plan, fortunately, passes by.
"I just summed up his experience in small and amounted to several manuals (user manuals) for men and women" - modestly says in the preface to his new book by the author. Think about after these words, is it worth reading. And think of times.
If you tell me what Martha Ketra - a writer and her books are close to you - I do not believe it. Here I'll keep her last work in his hands. Well, I do not like it all! I'll go chtoli Robsky better read. Thus, for comparison ...

Anna Pavlova
Click here to see this article in russian: Марта Кетро: Неинтересная Робски для простых смертных
pavlova_a
©2006-2019 All rights reserved