Billboard
The new project Paul Pepperstein "Either or" Gallery of Regina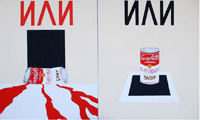 In his new exhibition of the artist proposes to seriously think about creating a new
general style of the external representation, capable of becoming distinctive emblem
artistic brand in Russia. Such a representation of his art is so
Russian society is needed now, when the country is taking
attempts to find an independent voice, the national idea, as well as the distinct language
to express this idea.

Such a formal language, according to Pepperstein, Russia has. This
Suprematism. Principles of Suprematism formulated in 1910-ies Kazimierz
Malevich, but surprisingly, the style is not marked with a "retro"
he now is directly related to the world of the future. Building on
achievements of the new representational style of Suprematism Russia will
stating that we have not only the idea of its past, but
and the idea of their own future, not soluble in the common future of humanity.

Work presented in this exhibition - a reflection of topical
political circumstances: the hope for Obama, new ambitions of Russia,
relationship, a kind of "love the fight between Russia and America.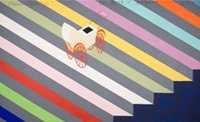 New representational style of Russia - it is a holiday with a Russian soul,
reckless gaiety and elements of Russian Art Nouveau.

Paul Pepperstein: "I hope that will be ideal natssuprematizm
style for the design of facilities and activities associated with external
representation of Russia - public buildings: airports, train stations,
embassies, ministries, events and festivals of Russian culture
government agencies, and private homes. "

Paul Pepperstein was born to artist Vladimir Pivovarov in 1966. In 1987 he graduated from the Prague Academy of Arts and founded the group "Medical Hermeneutics." In general, the artist's work formed under the influence of Conceptual Ilya Kabakov and Victor Pivovarov.
Click here to see this article in russian: Новый проект Павла Пепперштейна «Или или» в галерее Риджина
Андрей Гальперин
©2006-2019 All rights reserved