Culture
Amazing Facts - December 24
December 24, 1865 in an American town Pulaski, Tennessee, losers of a civil war veteran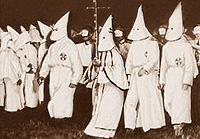 Confederates had established a secret racist terrorist organization the Ku Klux Klan "- to combat the Negro movement and progressive organizations.
The name of this organization is taken from the Greek word «kyklos», meaning "circle". At the head of the self-proclaimed "Invisible Empire of the South" was a great magician, who obeyed the Great Dragons, Titans and the Cyclops. First great magician recognize the Confederate cavalry general Nathan Bedford Forrest. Uniforms members of society are white robes with slits for eyes - for the inability to identify the members of the federal authorities and intimidate recalcitrant black U.S. citizens.
December 24, 1908 in Paris, the opening of the first international air show.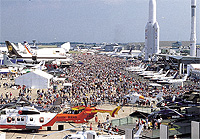 Event in that year was part of the show. Now such activities are conducted in many countries around the world, and the Air Show in Le Bourget, held every two years in the same airport, 12 km north-east of Paris, has already become a legend.
June 3, 1973 during a demonstration flight at Le Bourget crashed Soviet supersonic passenger aircraft Tu-144 - killing all 6 crew members. At the Paris Air Show in 2005 attended by 1,926 exhibitors from 42 countries submitted 238 aircraft. In 2007, the exhibition was attended by nearly 2000 exhibitors from 42 countries - was inserted 140 aircraft.
December 24, 1942 in a secret Nazi Rocket Center Peenemünde was
conducted its first missile test FZG 76 (later known as the V-1 "), developed under the leadership of Wernher von Braun. V-1 "was a doodlebug (a prototype of the modern cruise missiles), and was in service with the German army at the end of World War II. V-1 was equipped with a pulsed air-jet engine and carried missiles weighing 750-1000 kg. Flight distance was 250 miles, but was later reduced to 400 km. There were two options for launching a projectile: from a stationary ground-based launcher (catapult) and from an aircraft carrier, which was used as the bomber He-111.
June 13, 1944 held its first combat use of the German cruise missiles, the V-1 "against Britain. After the landing of Anglo-American troops on the Atlantic coast of Europe, within a short time attacks were liberated Antwerp and Liege, several shells were fired at Paris. The name of the rocket that comes from it. Vergeltungswaffe - «weapons of retaliation."
Release prepared by Max K * - based on encyclopedias and other public sources.
Click here to see this article in russian: Удивительные факты - 24 декабря
©2006-2019 All rights reserved