Culture
Amazing Facts - January 24
January 24, 1848 at Sutter's sawmill on the river in northern California American James Marshall discovered gold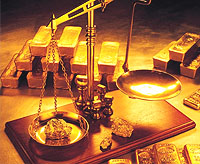 nugget. This discovery led to the fact that next year the whole of America was covered by "gold fever".
When rumors of the found gold reached San Francisco from throughout California gold prospectors flocked there. Peak fever occurred in 1849. California's population has grown from 14 thousand in 1848 to 100 thousand in 1850, and by 1860 amounted to 380 thousand people. Many of the wave of "people of the 49 th" were from China, Australia, South America.
"The Pacific railroad line was taken to the West agitated, perplexed, undecided, excited seekers of happiness. Trains were taken from the battle. Was the greatest confusion in this wave of human stupidity ... Enraged crowds who came to find happiness with other parts of the country, abandoning the case, the service, to fill the hot sun embankments San Francisco, where all the eatables were destroyed, as locusts ... "- described the Alexei Tolstoy events of those days in his" hyperboloid of Engineer Garin .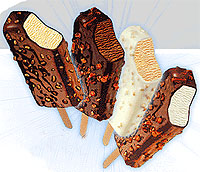 January 24, 1922 was patented Popsicle. This was done by the teacher, Christian Nelson, who emigrated to the U.S. from Denmark, which opened in the town of Onawa (pcs Iowa) shop sweets. The first large batch of ice cream drenched with chocolate produced by «Gervais», which now belongs to the concern «Danone».
January 24, 1959 kicked off one of the most prominent cycling trips. British itinerant lecturer Walter Stoll on January 24, 1959 to December 12, 1976 rode his bike more than 646,960 kilometers. Starting from Romford, Essex, United Kingdom, it is more than 10 years, traveled around 159 countries.
January 24, 1975 was made a curious scientific record: the man has made the greatest speed the object in the earth's gravity. This is the fastest centrifuge was established at Birmingham University, and speed in a vacuum facility, which was a cone-shaped carbon fiber rod length of 15.2 centimeters was recorded as 7,250 rpm h.
Release prepared by Max K * - based on encyclopedias and other public sources.
Click here to see this article in russian: Удивительные факты - 24 января
©2006-2020 All rights reserved