Culture
Amazing Facts - February 23
February 23, 1874, Major Walter Wingfield English was granted a patent for a new kind of active outdoor play. Himself an inventor named her Sphairistike, and now this game is known to all as tennis. Major invented the game to entertain guests at a reception in his mansion in Uelse.V he used as a basis already existed for several centuries, the game Real Tennis,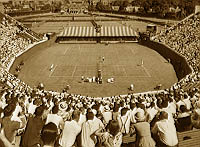 originated in the XII century in France, which was popular in the circles of French aristocracy until the time of the French Revolution.
According to historical sources, modern tennis terminology originated in the same period, as Wingfield borrowed for his game as a name and a set of French words of the royal tennis. Thus, the name "Tennis" (English tennis) came from Fr. tenez, the imperative of the verb tenir, «to keep." It means, therefore, "Hold!" This cry player in real-tennis rival warned that he was going to serve; Racket (English racquet) is derived from Fr. raquette, which in turn comes from the Arabic rakhat, meaning "hand". By the way, from its patent for a tennis major of any benefits subsequently available and could not.
23 February 1881 began production of the famous Zhigulevskoye beer. The history of Samara brewery began an Austrian nobleman, Philip Von Vaca, in the middle of the XIX century. His son, Alfred has expanded the case, and in 1879 the Samara City Duma passed in his 99-year leases land on the banks of the Volga. In 1881, the brewery started to give products. In 1913 he was third in the list of the largest breweries in Russia. By the way, shipped beer called "Vienna". Zhigulevskoye it was in 1934 when he visited the Samara Commissar food Mikoyan visited the brewery and asked why he liked the beer is such a bourgeois name.
February 23, 1910 in Philadelphia, held its first competition between radio operators - the speed and accuracy of transmission of the text in Morse code. Who then became a winner - the story is not retained, but the competition became traditional.
February 23, 1958 Legendary race car driver, five-time Formula-1 Argentine Juan Manuel Fangio, a day before the start of the Grand Prix of Havana, was kidnapped by Cuban rebels. After 28 hours he was released, but the rebels did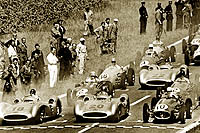 a statement that did so to the whole world knew that the country rebelled against the dictatorship of Batista.
The race, held in the end, without a champion, was marred by a terrible accident, with many victims. Subsequently, Fangio was convinced of the mystical nature of this case, and refused to give any evidence against the kidnappers.
Release prepared by Max K * - based on encyclopedias and other public sources.
Click here to see this article in russian: Удивительные факты - 23 февраля
©2006-2019 All rights reserved