Culture
Amazing Facts - January 21
January 21, 1506 by order of Pope Julius II was formed by army Vatican - Swiss Guard. These troops directly subordinate to the Holy See and is considered the oldest army in the world, although the counts in its ranks all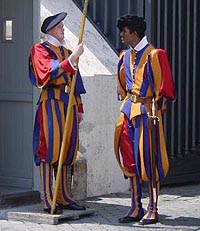 80-90 people. The red uniforms of the guards also have been developed under the leadership of the Raphael. In the form include: striped red-blue-yellow jackets, and caught up behind the knees pants, a beret or Morion with a red plume on ceremonial occasions, armor, crossbow and sword.
Julius II went down in history as one of the most militant dads - he led a ceaseless war throughout his pontificate. Needing a loyal troops, he opted for the Swiss soldiers who served at that time in many European countries and considered the best soldiers in Europe. Guards owed my life to Pope Clement VII. Defending his May 6, 1527 during the capture and pillage of Rome, the troops of Holy Roman Emperor Charles V, 147 guardsmen were killed. Since then, the memory of this event Guard recruits take the oath on May 6 - Day of the Swiss Guard. Have been in the history of the Guard are times when the need for its existence questioned. At the beginning of the XIX century. The Swiss Confederation abolished mercenary military service abroad, and in 1970 Pope Paul VI, an effort to support the peacekeeping nature of the Roman Catholic Church, announced the dissolution of military units of the Vatican.
In general, before 1970 in the Vatican, there were 4 kinds of forces: Dvoryanskaya Guard; Palatina (Palace) Guard, the Gendarmerie and the Papal Swiss Guard. Pope Paul VI reformed the armed forces, abolishing the first 3 types of troops and leaving the state to protect only the Swiss Guard. In 2002, Pope John Paul II restored the gendarmerie.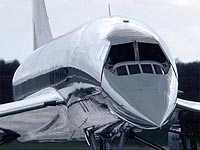 January 21, 1976 its first commercial flight has made the fastest airliner - the Concorde. The French aircraft has a cruising speed that corresponds to 2.2 M-numbers, or 2,333 mph, the world's first supersonic passenger airliner. Its first flight took place on the route London-New York. April 14, 1990 "Concord" set the record time on this route: 2454 minutes.
January 21, 1988 in Afghanistan's famous 9-th company left height 3234 performing its task. In the native 345-th Guards Parachute Regiment greeted her with an orchestra and unfurled the banner. Contrary to the well-known film, it is the company - a supposedly abandoned and forgotten, all before a single polegshaya not know why, when the war was over - in fact honorably fought for another year.
January 21, 1993 was prepared by the world's largest donut - weighing 1.7 tons. Treat was baked on the companies "Donatas and Hemstrout in Attica, NY, USA. About how many people ate the donut-record, history is silent.
Release prepared by Max K * - based on encyclopedias and other public sources.
Click here to see this article in russian: Удивительные факты - 21 января
©2006-2019 All rights reserved