Culture
Phoenix, risen from the ashes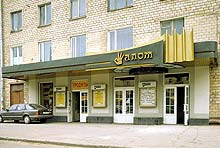 "Phoenix rising from the ashes" - the so-called "Shalom," the London newspaper "Guardian" during his tour in England. Now "Shalom" - the only Russian professional Jewish theater. As you know, the Jewish Theater in the country for a long time was not.
That is, he was not even one in the Soviet Union were more than twenty, but in 1948 killed Mikhoels, in 1949 - shut GOSET. And the Jewish theater was gone. Only in 1962 was resolved when Moskontsert little Jewish Drama Ensemble. Played little, in small towns, sometimes eight months of sitting idle.
In 1988, the ensemble was invited by Alexander Levenbuk. The team received the status of the theater and the name "Shalom."
In "Shalom" its drama: Arkady Hite, Alexander Kurland, Boris Ratner, Ephraim Sevela, Felix Kandel ... Its composers: Vladimir Shainskiy, Alexander Zhurbin, Boris Saveliev, Boris Rivchun ...
And its coming only in the theater's repertoire. Comedies, tragedies, musicals, plays for children, the show and just concerts. The performances are in Russian.
"But with the elements of Yiddish - likes to add Alexander Levenbuk.
And who are they, today's viewers Jewish Theatre? Whether large percentage of Jews among them? Hard to say. Known only that "Shalom" - a theater for those who are interested in Jewish humor, who sincerely wants to learn more about the nature of cheerful people that has survived in its history, many tragic pages, but does not lose his ability to sincerely and child-like joy, sadness and laugh through the tears ...
The repertoire than modern writers - Nobel laureate I. Bashevis Singer, Sholem Aleichem, L. Feuchtwanger. Performances variety of subjects and artistic expression. In their many musical scenes, dances and, of course, humor.
For 20 years - 24 premieres, 3000 performances and 190 departures to cities in Russia and CIS, 24 tours to foreign countries.
With great success the theater played in the U.S. and Germany, Israel, Canada, Romania, Belgium, and in many cities of Russia and the CIS, and even in Australia and New Zealand.
>
Click here to see this article in russian: Феникс, восставший из пепла
urushev_p
©2006-2019 All rights reserved