Culture
Amazing Facts - December 16
December 16, 1773 in the U.S. occurred the famous "Boston Tea Party." In those years, Boston was the most powerful center of resistance to English law in 1765 the Stamp (impose a tax on postage, print, and even playing cards). The law was soon canceled, but the struggle for independence continued. In 1770, to break up demonstrations in Boston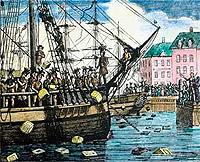 Customs suddenly started firing. Killed three people. This event, called "Boston Massacre", the radical press in full use to foment hatred against the British. Increasingly become a voice for secession from the British Empire, and radical separatists fought for independence, became known as "patriots." In 1773 was introduced the so-called "tea-law, under which the monopoly on tea trade with the colonies passed the East India Company. The colonists regarded it as a dangerous precedent, an assault on freedom of trade. Reduction of the English Parliament duties on tea making smuggling unprofitable.
In December 1773 crowds of Bostonians in the port prevented the unloading of three ships that brought tea. And in the night with 15 on 16 December to the team of the future president of Adams a few people dressed as Indians, entered the merchant ships loaded with tea, brought ships of the British East India Company and dumped overboard 342 box. In London, a "collective drinking tea" was regarded as a serious crime. Parliament suspended the constitutional guarantees in Boston was a state of emergency, civil governor replaced the military commander, and the harbor is blocked. The British Government has decided to close the port of Boston until the full compensation and sent to New England warships. These measures have served as a signal for general resistance to the North American colonies that ultimately led to the formation of the United States.
December 16, 1838 occurred the famous "Battle of the Bloody River" - a battle between the Zulus and the Boers. Invading the territory of the Zulus, the settlers met with fierce resistance from the native army, led by chief Dingaan. Armed with spears and javelins Zulus could not resist the settlers with rifles. In the battle of 3000 Zulus were killed and river water stained with blood. At the Boers were only four wounded.
December 16, 1979 a man broke the sound barrier as they move across the surface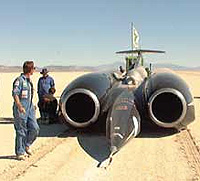 world - made it an American race car driver Stan Barrett. Rekrd was set at U.S. Air Force Base "Edwards, California. Barrett, managing "Budueyzer Rocket," three-wheeled vehicle with a rocket engine, developed the highest speed on the ground in the race for the line: 1,190.377 km / h or 1.0106 Mach.
However, this record (1.0106 Maha) has no official confirmation of the U.S. Air Force, as used to measure the velocity of the radar was not calibrated and not previously passed an approved test. In addition, during the arrival, the signal fed to the radar can not directly but through the reflector, communicated to the operator of the vehicle.
December 16, 1989 Moscow schedule Sergei Arto 24 hours 2 minutes 30 seconds of continuous operation has drawn portraits of 656 undergraduate and graduate students of MSU.
Release prepared by Max K * - based on encyclopedias and other public sources.
Click here to see this article in russian: Удивительные факты - 16 декабря
©2006-2020 All rights reserved