Culture
Amazing Facts - February 12
February 12, 1864 Russian Imperial Society of acclimation of plants and animals has been organized by the Moscow zoo. One of the main initiators of its creation became a professor at Moscow University, Anatoly Petrovich Bogdanov.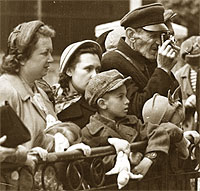 Organization of the zoo was an important event in the cultural life of Moscow, since it was the first attempt at a scientific institution of its kind - a "living museum in the open air." It was a unique experiment in the organization of the zoo in a very harsh climatic conditions of central Russia.
In those years Presnja was far outskirts of Moscow - walking place of citizens. Financing of the same zoo was carried out at the expense of tickets, as well as through donations of the Imperial family. In 1864, the zoo has visited personally Emperor Alexander II, he expressed his approval of the members of management and was pleased to welcome the elephant from Tsarskoe Selo, donated by the Emir of Bukhara, three and four bison roes of the Bialowieza Forest. Visited the gardens and other special imperial family: the Grand Duchess Elena Pavlovna Grand Duke Mikhail Nikolayevich, vicar of the emperor in the Caucasus, through which the zoo has many animals Caucasian fauna.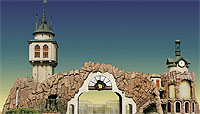 After the Revolution Society acclimation of plants and animals ceased to exist, and in 1919 the zoo was nationalized. Its area was increased by almost half, increased collection of animals, were created by academic laboratories, veterinary centers. Zoo continued to work during the Great Patriotic War: from 1941 to 1945 it was visited by more than 6 million people. To the 850 anniversary of Moscow's reconstruction of the zoo. In 1865, the zoo was home 134 copies and 160 copies of the wild animals that now - 8,252 copies 1,036 species of animals.
February 12, 1865 the famous Russian chemist Dmitri Ivanovich Mendeleev defended his doctoral thesis "On a combination of alcohol with water and became a professor at St. Petersburg University in the Department of Technical Chemistry. Subsequently exactly periodic payments formed the basis for prescription of classical Russian vodka - 40-degree beverage.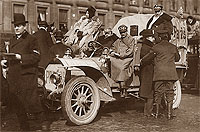 February 12, 1908 in New York at Times Square was the start of the first circumnavigation of motor racing. The six vehicles drove first to San Francisco, then crossed the sea to Japan, where again the sea arrived in Russia. Track race ran in Siberia, then across Europe. The winner, George Schuster, finished in Paris on July 26. In general the complexity of it spent behind the wheel of 88 days.
Release prepared by Max K * - based on encyclopedias and other public sources.
Click here to see this article in russian: Удивительные факты - 12 февраля
©2006-2020 All rights reserved