Culture
Amazing Facts - December 8
December 8, 1931 in the U.S. was patented coaxial electrical cable. Made it Espenshid Lloyd and Herman Effel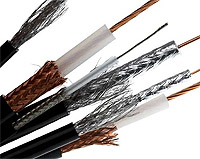 from AT & T Bell Telephone Laboratories. Modern coaxial cable consists of two cylindrical conductors coaxially inserted into one another. In the center often runs a copper wire covered with a plastic insulating material over which is the second conductor - copper braid or aluminum foil with a braided tinned copper wires.
Modern TV coaxial cable has an inner conductor of copperplated steel inner insulator of vspennennogo polyethylene shielding foil and the steel braid. Feature of the coaxial cable into that, thanks to the coincidence of the centers of both conductor loss by radiation is practically absent, while simultaneously provides good protection against external electromagnetic interference. That's why these cables are used in television technology, and were previously used in computer networks.
December 8, 1941 Japanese fleet, consisting of six aircraft carriers (360 aircraft), two battleships, three cruisers and nine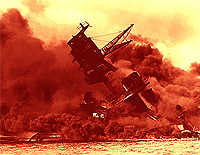 destroyers approached the Hawaiian Islands. at 7:55 am Japanese bombers and torpedo struck the biggest naval base at Pearl Harbor, Americans.
Americans have been significant losses - five battleships sunk and three were seriously injured (total lost 19 military vessels), 2,117 people were killed, 1300 wounded, 960 missing. Thus began the war in the Pacific.
December 8, 1963 from a lightning strike on a plane for the first time people were killed. The accident occurred near Elkton, Maryland, United States - then a direct lightning strike brought down a jet Boeing 707. In a plane crash killed 81 passengers. At present we know of at least 20 cases where the victims of lightning became the planes with passengers on board.
December 8, 1990 was prepared by the world's largest pizza. Traditional Italian dishes with a diameter 37.4 meters was baked in a supermarket the South African city of Norwood. About how many people eat pizza giant, the story hushed up.
Release prepared by Max K * - based on encyclopedias and other public sources.
Click here to see this article in russian: Удивительные факты - 8 декабря
©2006-2020 All rights reserved