Culture
"Baltica" has created the biggest card of beer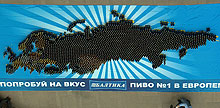 On Saturday 29 November in Moscow as part of the third exhibition gastronomic festival Food Show Baltika Breweries has made a request to install a triple record: Guinness record, "Record of Russia, as well as a record of the Book of Records of beer." The result was the achievement of the largest map of Russia and Europe, lined with 2700 bottles of different varieties of Baltika beer.
Setting the record company is timed to the sensational news about the leadership of the Baltika brand in Europe by sales volume. In 2007 in Russia and Europe, has sold nearly 1.5 billion liters of beer, Baltika, which is 16% larger than its nearest rival the famous Russian brand. This information was published in October, the authoritative British research agency Canadean.
To create the maps were used different varieties of well-known Russian brand of beer: Baltika № 0 Non-alcoholic, Baltika № 3 Classic, Baltika № 4 Original, Baltika № 5 Gold, Baltika № 6 Porter, Baltika № 7 Export beer, Baltika № 8 Wheat beer, Baltika № 9 Extra, Baltika Cooler and a new premium brand, which was released to the market in April 2008, Baltika LITE ».
For the calculations of the Russian Federation has taken more than 2000 bottles of Baltika № 3 Classic. The choice of the troika is not accidental - this variety is most popular among the Russian beer lovers since 1996, and in support of the Russians for 10 years in a row is selected its Product of the Year. "
To complete work on the beer map, the length of which eventually amounted to more than 8.2 meters, lasted three hours of hard work.
The entire documentary base collected during the installation records, will be handed over to the "Guinness Book of Records" and "Record Book of Russia." On receipt of certificates to be announced.
Baltika brand appeared in 1992 and became the first recognizable product brand in Russia. Since the mid-90 brand firmly holds the leading position in the beer market. Baltika - it's 12 varieties, each of which has its own characteristics and are positioned in different price segments. Baltika is available in almost all retail outlets in Russia (98%) and in 50 countries.
Baltika is actively involved in charity work. The other day "Baltic" has sent 10 million rubles for the improvement, production, delivery and installation of 3.5 playgrounds for renewable kindergartens and schools in Tskhinvali.
>
Click here to see this article in russian: «БАЛТИКА» создала самую большую карту из пива
urushev_p
©2006-2020 All rights reserved