Careers
Learn well. And learn well - even better
Showed that the implementation of national projects in the Kirov region in the past year? Dwell on one so-called budget project: in education.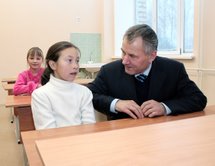 By level of education the Kirov region is the "golden dozen" best of the Russian regions. These data were presented last year on the basis of Russian and international educational competitions in which students participated Kirov. These indicators are not accidental and reflects the situation in the Vyatka education in recent years.
When the Kirov region one of the first in Russia has decided to move to a system of educational districts, skeptics of the idea was enough. But, as the first year of the new system, thus, managed to concentrate rather poor school resources on the most promising directions. The result did not wait. Will have new opportunities, Vyatskie schools, gymnasiums and lyceums were actively involved in innovative projects. Last year, the competition of educational institutions, implementing innovative educational programs, participated in the fifth ach school area. Moreover, 39 of them - in rural areas. Compared with 2006 the number of schools - the contestants has increased in 2,5 times.
This success was accompanied by the fact that in addition to the federal contest, the winner will receive one million rubles, in the Kirov region was declared a - for rural schools. And the top 10 of them have received public support from the regional budget in the amount of 100,000 rubles each.
And in addition to 94 teachers - "stotysyachnikov" winners "presidential" grant under the national project "Education", another 50 winners of regional competition received a prize from the regional budget.
Last year, all schools of the Kirov region - among the first in Russia - have access to the Internet, bypassing the much more affluent and "advanced" neighbors.
As a result - improved quality of learning. For example, level of education (there is such a figure) increased from 99,2% in 2005 to 99,3% in 2007. Became more children enrolled in the positive evaluation, and reduces the number of those who can not cope with the curriculum. A grade point average in all subjects, who graduates passed in the form of CSE in the Kirov region is significantly higher than in Russia.
PHOTO: Governor of the Kirov region NI Shaklein: "For the desk more visible problems of the school"
Click here to see this article in russian: Учиться хорошо. А хорошо учиться - еще лучше
dmitriy_l
©2006-2020 All rights reserved