Mystery
Spanish Prorva!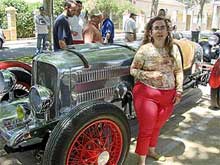 It absorbs food as rhythmically as a person breathes and the concept of saturation it is unfamiliar. Concerned parents first noticed this phenomenon when she was 4 years. She was offered to eat a kilogram package of cookies.
"We should not have all the cookies - they are admonished her, you're going to be bad, and it could end sadly. "Mama, but I really want to eat," replied her daughter. She ate everything she put, and since then, and in the home and on the street its nickname - "crumpet" (or "glutton"). This shortcoming - not paranormal phenomenon. Desire all the time something is - a symptom of a rare disease that affects one in 15.000 newborn infants.
However, while girls are 9 years old, is abnormally good appetite was considered dysfunction of the body. The girl grew up among three sisters and it is - the history of common pet. Chubby cheeks, perevyazochki the hands and feet, fragility, small size, it was all kind of cement that binds the family hearth. However, at age 9 she was diagnosed - Prader-Willi Syndrome (Prader-Willi) and mental retardation from his peers. Now the girl in 1922, but her mental development corresponds to 10 years.
"Glutton" came into crying when she saw a mouse caught in a trap. This upset her so much that she lost consciousness.
- What can I expect from my daughter? - Once asked her mother (Petra) by a doctor.
- Nothing, absolutely nothing, - said the doctor.
A girl named Libertad (Libertad) lives in Carolina (Province of Jaen, Spain) and her family life is not easy. To begin with, she needs constant supervision, including on food.
For example, at dinner, my mother asks her to eat a jar of yogurt. In this case, the total accumulated amount of calories ingested should not exceed one-third of those that eats a healthy person. The poor functioning of the hypothalamus (the brain) leads to a feeling of fullness that she never comes.
The house is noteworthy alarm, attached to the kitchen door (the other parents are just hanging on the door lock) that makes Libertad hide in the bathroom and there secretly load to dump. Behind it all the time needed eye so the eye.
"Doughnut, you're here?"

"Yeah, Mom."

The girl's mother recalls that when her daughter for the first time "caught" in the kitchen, she ate dog food.
Many people with Prader-Willi syndrome do not live up to 40 years and die of obesity, despite the restrictive measures in the diet. Congenital disease causes problems in behavior and can not be cured. "Glutton" is significantly different from the others. "It's hard going through adolescence. In 12-13 years, all want to be like "television" girls. She noticed that there "exists" and will never be "a". And for her it was a lot of stress.
Before she was placed in a special rehabilitation center, she was at college, where she was ignored, she also avoided communicating with colleagues. Above it is abused. One time she was summoned to school and scared, painted faces in the dark paint. On another occasion, fellow students brought home machine products, to watch and amuse, as it will be their tuck.

- Hey, Peter, do not you think that this is too much?.
- Do not look for more in their products in the refrigerator. Your daughter is all eaten, - spoke to her neighbors.

>
After this, Peter took his daughter out of college. She gave it to a specialized center, but there Libertad most of the time spent in the bathroom and ate food. But one day Peter saw the scene from which she wanted to die.
Her daughter alone, "cut" circles on the inner courtyard. She cried and was angry. This is a painful manifestation of the syndrome. And where were the teachers? Inside the Institute, they were closed from inside the key. And good that they were watching her.
Her height is 1.42 meters tall and she weighs 64 kg (15 pounds more than I should have to weigh), very helpfully, likes to see a movie, relax in nature and joke with her sisters. Her sense of humor does not change even in a state of permanent pregnancy is 13 -14 times (she in 1922) she was doing abortions. Every time she gives her hand to her friend Alphonso, she asks him love. "Oh, mom, I was pregnant again, reports - she of the mother. "Do not worry, my daughter" - should be answered.
Recently, Canada has committed suicide, John Hudson (John Hudson), suffering from such diseases, who wrote a deathbed letter: "We have special feelings and dreams. The main thing is to understand us. Understand and take care of us - this is what people can do for us. Food is everywhere, it is advertised on television, she offered in unlimited quantities at the college, at home, on the street.
I can not control myself. The impression is that in my stomach float piranhas, which grind food. However, the way it is. I want diversity in my life, I want to make a decision. If the government has the money to carry out anti-crisis policy, then why does it not care about people like us. I want to live, as well as anyone wants it. "
Peter says that the main lesson that they taught her daughter is to appreciate life:
- When I hear from parents, complaining about the children because they do not want to learn, I tell them, 'If you had to "glutton", what would you do?
Translation: Love Lyulbko
Foto:
El Mundo
Click here to see this article in russian: Испанская прорва!
urushev_p
©2006-2020 All rights reserved