Mystery
Astronaut actually saw humanoids. Frank admission
"Aliens exist!" - Assures all American astronaut. When you're 77 years old - lying senseless.
A few days ago, an American astronaut and scientist Edgar Mitchell (Edgar Mitchell) made a confession to British tabloid "The Sun": «Aliens exist!". The most striking thing is not the point, but the fact that humanoids, like two peas in a pod, similar to the famous hero of Hollywood director Steven Spielberg. This friendly creature with a huge head and big eyes.
For those who do not believe in the testimony of an astronaut, said: Mitchell - a crew member of the American spacecraft Apollo 14, who in 1971 landed on the moon and spent nine o'clock 17 minutes.
Former astronaut says: "The UFO phenomenon - it is reality." About this time he was aware of the existence of NASA. In the 60 years that data were classified and the government can not still open access.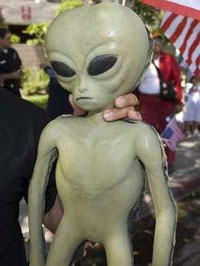 U.S. space agency, known as NASA does not confirm the evidence of its former employee, despite the fact that Dr. Mitchell is still considered, by their standards, "a great American."
Not only have foreign journalists tabloid newspaper here in doubt. Or the old man survived the mind, or are we all - fuckers. By the way, is rumored to Soviet cosmonauts also seen something like this, but ... In the area criminals are bred fraerov, asking the latter: "a fork in the eye or in the ass again?" To those who are not familiar with the prison manners, easy - to omit. Do not omit, and us? No answer. Concrete. Clear.
Anyway, have tough outer astronaut was not with them, even the simplest camera to shoot a humanoid as a keepsake. Our tourists have long known that even Japanese travelers were recorded on a fucking Polaroid back in the 70's. Can American "lunohodtsa" failed to provide even the simplest device, although at the same time theirs spyware from all angles filmed our Soviet Motherland?
Great Stanislavsky would say here - I do not believe! Or policy is above all!
Igor Bukker
Click here to see this article in russian: Астронавт действительно видел гуманоидов. Откровенное признание
snezinskaya_e
©2006-2020 All rights reserved