Mystery
Coming civilization of vampires?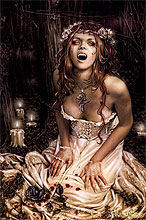 During the day they are respectable way of life: go to work and shop, do business, the household ... And at night go out hunting. They can not exist without blood. Human blood. Yes, yes, we are talking about vampires. Most of these living next to us!

This is not otherworldly beings who have returned from the grave to drink the blood of their victims and gain eternal life. At first glance, it's ordinary people. They have one feature - the strange addiction to drink blood.

Many of today's vampires do not hide their "tastes." Moreover - in every way underline them, dressed in black, sharpening tusks and imposing the appropriate makeup. They have their own clubs and parties, where they can unburden his heart.

In New York there is a research center of vampires led by paranormal expert Dr. Stephen Kaplan. According to the professor, the subject of his research are 25 vampires. In addition, he is personally acquainted with 500 vampires, 300 of whom live in the U.S., and three - in England. However, they usually do not use human blood and the blood of animals - mostly cows or chickens. Some drink blood from each other or find partners who can do it with them voluntarily.

Kaplan has organized a kind of community of vampires, where the past comes to talk to each other. For example, some Misty attends these meetings for over 20 years. When a cute blonde first appeared in the center, visitors were so captivated by her, that girl begged her to bite them ...!

Another "client" Kaplan - Carol Bogen from London - the day working at the store of motorcycles and night walks on the vampire to meetings. Her sharp fangs sharpened, like a real vampire. She wears a black and red, does not like sunlight and dreams of living in a Gothic tower, ride a racehorse, and ... sleep in a coffin! In an interview with Carol says: "My parents are not really surprised, because the vampires were always on my mind. As a child I never was afraid of horror movies. I like the taste of blood. When it is cold, it has a metallic taste and it seems stronger than hot. "

Over the years the study of their "wards" Dr. Kaplan brought up the following laws. Vampires, he argues, often dark hair and brown eyes. Growth vampires men - about five feet ten inches, vampire women - five feet six inches. The average age for men is 26 years, women - 23 years. According to statistics, vampires live longer and look younger than their peers.

Most of the vampire is not aggressive. They can not suck as much blood to kill the victim, and almost never attack people against their will. Unlike their mythical counterparts, real vampires are not afraid of the prayers, the cross and holy water. But the garlic they do not favor - perhaps because he breaks down fats, which are contained in the blood.

By the way, all vampires are afraid of AIDS like the plague. If they prefer human blood, then try to find a permanent "donor".

Margarita Trinity
/ P>
Click here to see this article in russian: Грядет цивилизация вампиров?
urushev_p
©2006-2020 All rights reserved