Mystery
Colony mutants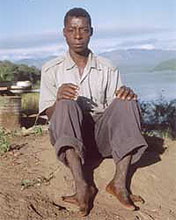 As is known, various physical deformities, defects, pathology can be inherited. It turns out that on Earth there are entire populations of genetic mutants!
Today there is a village in the Volga region, home to as many as 15 mutants - adults and children suffering from a rare genetic disease called aschistodactylia - fused the thumb and forefinger on his hands and feet. Say, the mutation went from St. Paul and Tatiana Kirilin, brother and sister of a prosperous peasant family, who lived in these parts in the early twentieth century. In the years after the revolution they dispossessed, and they both are gone nowhere. But their descendants have remained in the village.
Some of these were born without any abnormalities. And part, like their parents, were chetyrehpalymi. Already today, one of the villagers had plastic surgery to separate fused fingers on a hand. But fingers are still fused, but the nerves were damaged and the person became disabled.
Chetyrehpalye ashamed of his "ugliness" and try not to travel to the mainland. To marry only with her, which of course increases the probability of the birth of children-mutants. By the way, according to rumors, a village with the mutants are still in the Far East.
And in the village has a family, where the second consecutive year are born hermaphrodites. According to a local obstetrician-gynecologist Vera Blinova, this defect is inherited. However, parents of children say that their family had nothing like this. In another family, too, seems to be healthy, twice came into the world of hydrocephalus ...
The village is situated in ecologically clean area, away from the technology industry, the terms of any dumping of radioactive waste ... What is the cause mutations?

Incidentally, in Zambia, home to a tribe Wade, each quarter of the representatives of which on their feet for only two or three fingers. They are called the "ostrich".
According to researchers, the mutation is passed on a genetic level. Themselves the same people, "ostriches" perceive it as a hallmark of his tribe, and therefore enter into marriage only with their own members. Although, according to legend, this "label" - the result of a curse. By the way, a tribe of mutants is often visited by tourists to gawk at the "gimmick".
The most interesting version of the occurrence of such malformations push ufologists. They suggest that such mutations may be a sign of extraterrestrial origin "freaks". Perhaps once these places are visited by aliens who entered with the natives in a sexual relationship. Only this long forgotten ...
But in the Volga region, there are many anomalous zones! Take, for instance the famous Medveditsk ridge near Zhirnovsky. Perhaps, mutations associated with the pathogenicity of energy?
Margarita Trinity
/ P>
Click here to see this article in russian: Колонии мутантов
urushev_p
©2006-2020 All rights reserved