Mystery
"Pregnant Man" again is expecting a baby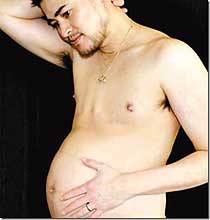 Thomas Beattie is returned. Known as the "pregnant man" American Shemale expecting her second child. On this he and his wife Nancy told news agencies.
"Hide the pregnant man - it's like to hide the 800-pound gorilla" - he jokes on himself Thomas. So he did not hide the fact of her second pregnancy, and reported it to not only see his doctors, but also to the press.
Although Thomas underwent several operations, sex change and takes male hormones - testosterone - he kept the reproductive organs. After the birth of their first child - a girl Susan - July 3 this year, he had to return to the course of drug therapy. But Nancy really wanted a second child, so that Beatty temporarily stopped taking medication.
Upon learning of her second pregnancy, Thomas decided to immediately notify the press. He said: "Me and Nancy want to tell their story in their own words, until it became known in another way."
To this end, Thomas and Nancy provided a detailed interview with the famous American journalist Barbara Wallace. At this step the couple Beattie pushed and fears for their safety - during the first pregnancy, Thomas finds a lot of maniacs who threatened family violence.
The birth of her second child with the family Beattie is expected in June next year.
>
Click here to see this article in russian: "Беременный мужчина" снова ждет ребенка
urushev_p
©2006-2020 All rights reserved