Mystery
A Tale of "man-tree: an unusual disease resident in Indonesia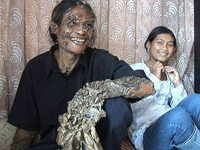 A unique person - a tree is alive and well in Indonesia, the island of Java. Alive and thriving.
Dede Kosvare 37 years, 20 of which he has lived with growths resembling a tree that covered his entire body and completely fettered limbs.
Dede troubles began when he was a teenager, injured his knee. Due to contamination of his hands and feet began to grow resembling warts "roots." Over time, tumors have spread throughout the body, and he soon became unable to perform everyday chores. Lost his job and abandoned by his wife, Dede bringing up his two children in poverty, resigned to the fact that local doctors will not be able to help him.
The first time the story of a man with a rare skin disease was shown on channel Discovery. In last year interest in the case of an American doctor Anthony Gaspari of the University of Maryland, and came seeking treatment for Indonesians. Laboratory analysis of samples of tissue and blood of the patient revealed that warts are caused by ordinary papilloma virus (HPV) rights, which usually causes small warts. The unusual progression of the disease American doctor explaining a rare genetic defect that weaken the immune defense patsienta.U Dede was a low white blood cell count (WBC), which first Gaspari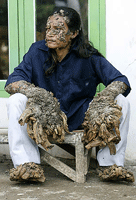 thought that he had AIDS. But tests have shown that it is not.
The most amazing thing is that, if we forget about the build-up, then throughout the life of Dede was in good health, which can not be expected from a person with a suppressed immune system. Moreover, neither his relatives nor his children are no no growths.
Dede first operation carried out in January and the last time in March. Now doctors are trying to make the build-up have not begun to grow again. To do this, Dede takes vitamin A. Dr Rashmat ordinate said that the final operations will need another three months. Doctors will take the skin off your back and hips Dede and transplanted to the affected areas.
After doctors cut off more than 1,8 kg of growths on the hands and feet, he was the first time in many years, can recognize the shape of his fingers. Located in a hospital in Indonesia, Dede says: "The first thing I want to get better and find a job. And then, who knows maybe meet a woman and get married."
While Dede in hospital. He can already hold a pen and press the button the phone to call their loved ones.
Anna Pavlova
Click here to see this article in russian: Повесть о "человеке-дереве": необычное заболевание жителя Индонезии
pavlova_a
©2006-2019 All rights reserved