Mystery
Hunters skulls
Is it always turns out after the death of "rest in peace"? After all, "hunters skulls" are not only in the Brazilian jungle or in the pages of adventure novels, but still - among us. Even the image of death - the skull and crossbones, gradually moved from a pirate flag on the symbols of our civilization technotronic - power generation facilities.
Gallery: Maiden and Death - infernal bodypainting
Once a solid and intelligent woman professor has brought us to a seminar at the institute small box, pulling out her something small and dark, the size of an orange:

- This is the so-called "tsantsa" - when we lived in Colombia - that's got a gift from a local leader of one of the Indian tribes. My husband was a doctor and an unusual gift - a kind of gratitude for the healing of the son of the leader.
We have looked carefully, but only gasped - it turned out, "tsantsa" - a human head. Brown, wrinkled, his lips twisted in a macabre grin and his eyes were sewn with thread ...
- What is it? This?
- The most that neither is true! Many tribes still know the art masterfully smoked and dried, these human heads, after which they decrease in size many times over.
Today the sinister "souvenir" became a symbol of the Amazon - glubinok Colombia, Peru, Ecuador and Brazil. However, visitors are sold, fortunately, mostly penny souvenir fake leather.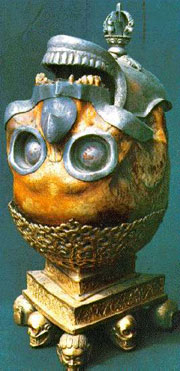 But not only savage but also quite civilized Europeans still consider the special chic home store real human skull! In the 17-18 centuries in England, such "relics" were kept almost in the house almost every nobleman and takes pride of place on a special shelf or table. Shakespeare's "Poor Yorick" - it's there!
These skull called "family" - they usually belonged to one of the brave great-great-grandparents. Talk to them, ask for advice and assistance. Stolen from cemeteries as head of simple and humble people used a far more utilitarian: as an indispensable component of some medicines. Drinking water from the skull of a suicide or snorting powder from the mold found in the human skull found strong "psychotropic" means "expels demons, and the famous English King Charles II to his feet with tincture of ... shavings of a human skull.
It is unknown whether the practice today, this custom any Satanists, but in 19 century it remained only in remote corners of Ireland - there is a particular demand was quite old skull covered with lichen, of which the chips are not only prepared the drugs, but also mixed into the food ... as a condiment!
This year, in connection with the recent riots and unrest around the torch relay Beijing Olympic Games has once again reminded of Tibet. This mountainous region to many seems almost like the land the highest spirituality. But in fact, even in the past, the 20 th century in Tibet and neighboring Mongolia and Buryatia - wherever Buddhism was dominated by "northern" Lamaist branches remained, to put it mildly, very strange customs. For example - made from human skulls, sacred vessels, "Gabala", which was used in tantric rites.
Gallery: How the clowns: a group of masked men in Slipknot
Tibetan Qabala from a human skull
tin is not every man was honored after his death turn "Gabala" - did not bowl out their enemy, but only "the most intelligent, whose skull has no seam. Behind them was a real hunt, and even if the deceased during his life said he did not wish a similar fate - his grave dug up, cut off his head and taken away in Lhasa. So, after the funeral of our famous countryman - Buryat scholar Gombozhaba Tsybikova - his head is also "disappeared".
Sergei Petrunin
Click here to see this article in russian: Охотники за черепами
snezinskaya_e
©2006-2020 All rights reserved