Mystery
Giant insects learn to New Zealand and the Arctic - June 1, 2006
Distant snowy Arctic less often associated with rapidly growing herbs, wild untrodden forests. However, a recent study researchers, namely, the location of the Arctic Ocean 55 million years ago there was a subtropical paradise.

The temperature in this area was kept approximately at around 23 degrees Celsius, heating due to emissions of gases underground. Throughout the rest of the world temperature has hovered around 11/12 degrees.

In confirmation of his theory, scientists say that it is from this region spread fern Azolla, characteristic of the subtropics and tropics. It is a broad expansion of the fern to suck carbon dioxide, and reduced the overall temperature.

About 55 million years ago, volcanic activity and methane emissions have led to fires, destroying life in the area. Against the general increase in temperature on the planet, the region became colder

According to professor of geology at Yale University, conducted the study, "apparently in a subtropical paradise, however, and there were mosquitoes the size of a human head."

Impressive, is not it? Although the residents of New Zealand giant insects will not surprise for them is an everyday reality.

In New Zealand, no mammals, except for species caught there recently with people has led to a number of unusual forms of life. It formed a diverse fauna of giant flightless grasshoppers - Council (weta). The most interesting is that the grasshoppers took on the role of fleshy fruit eaters and distributors of seeds - a function normally performed in continental ecosystems, small animals.

Grasshoppers readily eat a variety of fruit and some seeds at the same time does pass through the digestive tract intact. Between grasshoppers and plants has developed this cooperation.
Scientists have tested whether the seeds of grasshoppers in real natural conditions. To this end, they gathered in the woods excrement of grasshoppers and look at them viable seeds. The search proved successful, and almost all found the seeds successfully germinated. This is the first time the ability to distribute the seeds by passing them through the digestive tract, found in insects. Previously it was thought that this can only vertebrates.
The researchers concluded that the giant grasshoppers are active in seed dispersal, that is to maintain homeostasis of local ecosystems. Meanwhile, the rapid reduction of these insects caused by the expansion of imports of the human small animals (mice, rats, rabbits, etc.) can lead to degradation of the unique plant communities in New Zealand.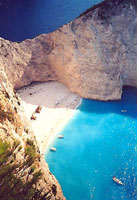 Incidentally, in neighboring Australia in 2001, scientists managed to find three giant insects , considered extinct about 80 years ago. They quietly crept over the trees growing on volcanic rock near one of Australia's islands. Scientists hope to recreate this kind of insects, reaching 15 cm in length, similar to a sausage with legs.
Constantine Woodpeckers
On materials: elementy.ru, BBC
Click here to see this article in russian: Гигантские насекомые осваивают Новую Зеландию и Арктику - 1 июня 2006 г.
Константин Дятлов
©2006-2019 All rights reserved